Early years pirate ship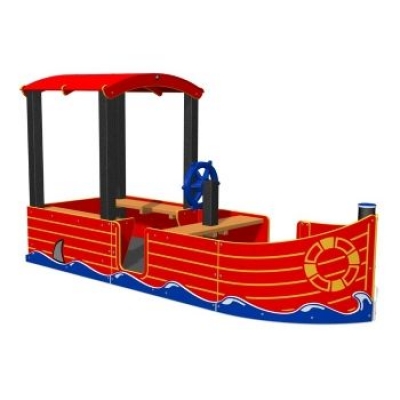 Play Ships and Boats are constructed using pre-assembles modular sections that bolt together on site. These modules are fully customizable in the colours, graphics and style that you want for your product range or your particular project and they can be made longer or shorter simply by adding or removing modules to suit your budget or to fit your site. The modules are easy to install and can be freestanding or anchored down with "L" brackets (supplied separately).
Modular construction

Fully customizable

Built in seating with LumbeRock Planks

Slip resistant PolyDek ffloor

Engraved and with plant-on graphics

Ships wheel

Roof unit
Custom colours and designs to your specification
2-colour and XD colour options
IMPORTANT: you must specify the colour option you require at the time of order if it is different from the standard colour listed with the order code (above), otherwise you will receive the standard colour.